24 July 2020
"I think we are well advised to keep on nodding terms with the people we used to be, whether we find them attractive company or not."
This Week
Two days from now, I will turn thirty-nine years old. I didn't have big birthday plans, but I had envisioned a different summer than I'm having. It's disappointing but also encouragement to look for subtler blessings. Fortunately, there are several.
Also on this Sunday, the second episode of Quiet Little Horrors drops, and to get ready we're hosting a virtual watch party of the film the episode discusses, Carnival of Souls, on Saturday, July 25 at 7pm Central. Register at our website to get a direct link right before the event, or keep an eye on our Twitter account for instructions on how to join. You can also subscribe via the usual podcast outlets to get the new episode as soon as it's live.
---
Links
Why transphobia has no place in feminism. This is an older piece, but it bubbled back up recently and is worth a reread.
On class, capitalism and urban planning in Who Framed Roger Rabbit?
"The idea of becoming a professional film composer, never mind writing nine Star Wars scores over forty years, was not a consciously sought-after goal. It simply happened. All of this, I have to say to you, has been the result of a beneficent randomness. Which often produces the best things in life." A profile of composer John Williams.
Trailer for Code of the Freaks, an upcoming documentary about the depiction of disability in film.
How virtual reality can preserve spooky dark rides.
"They have a surreal quality. Ephemeral, disposable, they served only one purpose—to let someone know 'I'm here. I'm thinking of you.'" How a photographer updated postcards of 1960s resorts with images of their abandoned ruins.
---
Reading/Watching/Listening
I've been doing a lot of rewatching, rereading and comfort listening lately. I'll report something new later.
---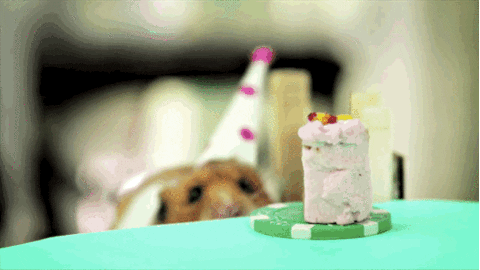 I give you permission to have cake. If you need that.
Love,
Jen
---
Connections
Substack archive: https://jenmyers.substack.com/archive
TinyLetter archive: http://tinyletter.com/jenmyers/archive
Essay archive: http://modernadventuress.com/
Website: http://jenmyers.net
Patreon: https://www.patreon.com/jenmyers
Email: hello@jenmyers.net
Post: P.O. Box 13114 Chicago, IL 60613
Today's quote is from Joan Didion.